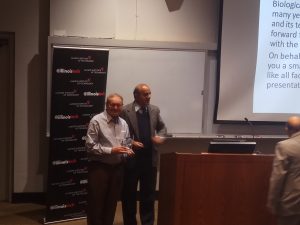 On April 11 the Department of Chemical and Biological Engineering honored Distinguished University Professor Dimitri Gidaspow for 40 years of service to the university.
Those honoring him spoke on their past experience with him as a teacher, colleague, mentor, and as someone to remember.
The attendees had the pleasure of hearing from various speakers, including Darsh Wasan, Robert Lyczkowski, Hamid Arastoopour, and Reza Mostofi-Ashtiani. Each offered a different story about their time with Gidaspow.
During the reception, faculty and students mingled with Gidaspow. It was a great turn out to celebrate 40 years of dedicated service.
Thank you again Dimitri Gidaspow.