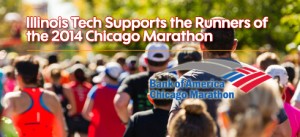 The 2014 Chicago Marathon is on Sunday, October 12, 2014. Runners will arrive at the Main Campus from the west over the 33rd Street bridge, then head south along State Street as they hit mile 23 of the race, then head east on 35th and proceed to turn north on Michigan Avenue for the final leg.
Help cheer them on as they run through campus. A banner featuring the names of faculty, student, staff, and alumni runners will be on display along the marathon route through Main Campus.
The lead runners start arriving at the campus around 9:30 – 9:45 a.m. Public transportation to campus on race day is strongly encouraged due to street closures for the race.
IIT Marathon Runners:
Lauren Anderson Baker
Krishen Blows
William Fox – Phi Kappa Sigma Team
Courtney Garland
Benjamin Grimmer
J. Sebastian Hurtado
Ryan Luat
Chi Young Moon
Jide Oke
Jared Reynolds
Matthew Shapiro
William Syvongsa