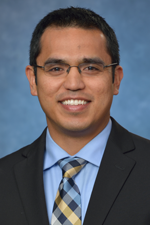 Join the Department of Chemical and Biological Engineering for a spring seminar on Wednesday, January 17 from 3:15–4:30 p.m. in Perlstein Hall Auditorium. The seminar, titled "Smarter Riversheds: Sensing to Identify Water Quality Trends in Real-Time," will feature David V.P. Sanchez, assistant professor in the University of Pittsburgh's Civil & Environmental Engineering department. Light refreshments will be served.
Ensuring the long-term sustainability of developed and developing cities rest on our ability to maintain the chemical, physical and biological integrity of our watersheds. While treatment schemes and green infrastructure retrofits reduce the negative impacts on our natural water systems, it is insufficient for ensuring water quality in rivers. With the increasing pressures of growing populations and rapid urbanization the need for cities to better understand pollution profiles and ecosystem changes on a watershed scale in real-time is paramount.
Thanks to significant advances in remote sensing, mobile platforms that reduce the cost to deploy wireless nodes and, interagency efforts to consolidate and collate data it is becoming cheaper to prototype low-cost water sensors and triangulate, historical, conventional and real-time data to identify water quality trends in large river sheds. After an overview of our group's work this presentation will explore methods to employ historical, conventional and real-time data to understand and identify water quality trends using the Pittsburgh River shed as a model. Current applications including sensor development, sensor placement and the use of sensing networks to evaluate the actual impact of green infrastructure retrofits will be discussed.
About the Speaker:
Sanchez is an assistant professor in the University of Pittsburgh's Civil & Environmental Engineering department. He also serves as the assistant director for the Mascaro Center for Sustainable Innovation, and the faculty lead for the University Innovation Fellows program. His research focuses on enhancing the sustainability of environmental systems using sensor and biohybrid technologies. Current funded projects include engineering electrodes for bio-electrochemical systems, designing sensors to identify environmental quality trends in real-time and, and developing hydroponic systems for the phytoremediation of PFAS. Sanchez is the recipient of several awards including a National Science Foundation Graduate Research Fellowship, Alfred P. Sloan Scholarship, Pittsburgh Business Time Energy Award, and the Best Mentor Award for Pitt's Excel program. He hails from the island of Guam and actively leads international engineering trips on behalf of the Swanson School of Engineering.