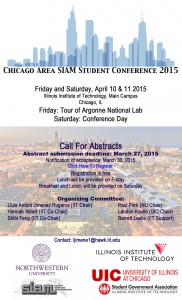 The Chicago Area SIAM Student Conference (CASSC), a collaboration with Illinois Institute of Technology, the University of Illinois at Chicago, and Northwestern University, will take place on Saturday, April 11 from 8:30 a.m.-6 p.m. The event celebrates applied mathematics and computational research in the Chicago area.
Undergraduate and graduate students who are interested in presenting their mathematical research at this year's event can find the registration form here.
The registration deadline is Friday, March 27, 2015. The conference will include an optional tour of the Argonne National Laboratory on Friday, April 10 from 8 a.m.-5 p.m.