The Chicago-Kent College of Law team of Stephanie Flowers '18 and Quinn Ford '18 won a regional championship at the 2017 ABA National Appellate Advocacy Competition regional tournament, held March 2–4 in Boston. They will join the other three top teams from the Boston regional tournament and 20 championship teams from five additional regions at the national tournament April 6–8 in Chicago.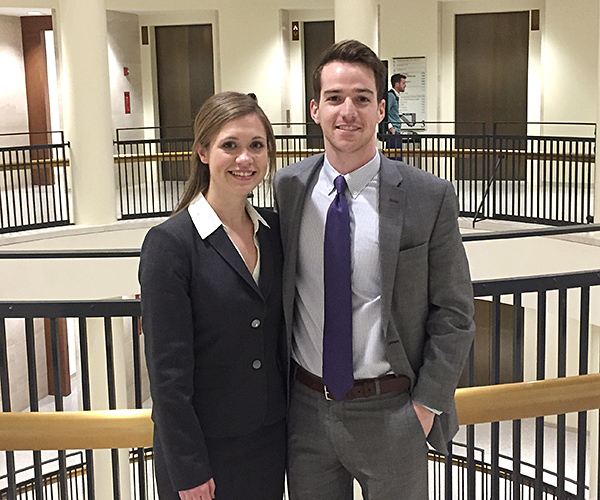 At the regional tournament, Flowers and Ford triumphed against a team from Northeastern University School of Law in the semifinal round and against a team from Boston University School of Law in the final round. The team is coached by third-year students Alex Halaska and Tracey Starck.
Flowers and Ford both graduated from the University of Illinois at Urbana-Champaign. Flowers earned a bachelor's degree in history, and Ford majored in journalism.
Symone Shinton '17, who competed on a second Chicago-Kent team, won the award for the region's seventh-best oral advocate. Shinton and her teammate, Kara Angeletti '18, performed well against tough opponents but were cut after the preliminary round. Third-year student Caitlin Ajax and fourth-year student Kyle Jacob coached the team.
Sponsored by the American Bar Association's Law Student Division, the National Appellate Advocacy Competition emphasizes students' written and oral advocacy skills. This is the second year in a row and the third time in the past four years that a team from Chicago-Kent has advanced to the national finals.
Chicago-Kent's Ilana Diamond Rovner Program in Appellate Advocacy, the umbrella program for many of the law school's moot court activities, was established in 1992. Since then, Chicago-Kent students have won numerous individual honors and regional and national competitions, including consecutive titles in the New York City Bar Association's National Moot Court Competition.