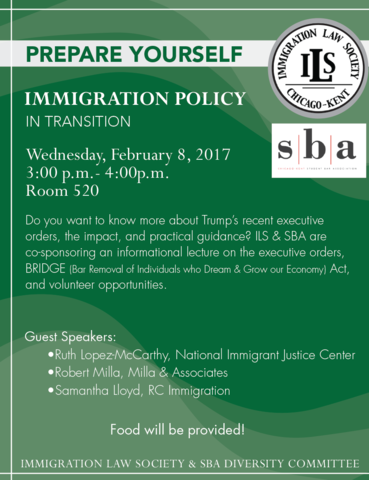 Do you want to know more about President Donald Trump's recent executive orders, the impact, and practical guidance? The Chicago-Kent College of Law Immigration Law Society and the Student Bar Association (SBA) Diversity Committee are co-sponsoring an informational lecture on the executive orders, BRIDGE (Bar Removal of Individuals who Dream and Grow our Economy) Act, and volunteer opportunities on Wednesday, February 8 from 3–4 p.m. at Illinois Tech's Downtown Campus, Room 520.
Speakers:
Ruth Lopez McCarthy (LAW '09), managing attorney at the National Immigrant Justice Center
Robert Milla (LAW '06) of Milla & Associates
Samantha Lloyd (LAW '13) of RC Immigration
All members of the Illinois Tech community are welcome to attend this event. Food will be provided.