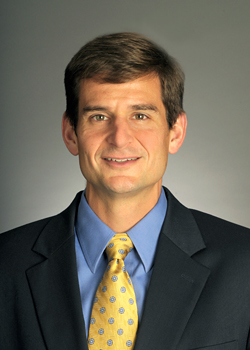 The American Society for Legal History has awarded Chicago-Kent College of Law Professor Christopher Schmidt the 2016 Surrency Prize for the best article published in the society's 2015 edition of its journal Law and History Review.
In "Divided by Law: The Sit-ins and the Role of the Courts in the Civil Rights Movement," Schmidt offers a new history of the lunch counter sit-in movement of 1960 and the legal disputes it produced. By focusing on the expectations various actors placed upon the courts, his article provides new insights into the complex relationship between Brown and the civil rights movement and, more generally, the intersection of formal legal change and social movement mobilization.
The Surrency Prize Committee praised "Divided By Law" as a "brilliant essay" and a "model of clarity, incisively and judiciously argued." The article "provocatively renews the debate over the importance of Brown and the Supreme Court in America's Second Reconstruction, suggesting that constitutional historians treat attitudes toward the courts themselves as a central element of public law contestation."
Schmidt's "Divided By Law" article had already won the Association of American Law School Scholarly Paper Prize and had been selected for the prestigious Harvard/Stanford/Yale Junior Faculty Forum. Schmidt's book The Sit-Ins: Protest, Law, and Social Change will be published next year by the University of Chicago Press.
Schmidt, who joined the law school faculty in 2008, is associate dean for faculty development and co-director of Chicago-Kent's Institute on the Supreme Court of the United States. He teaches in the areas of constitutional law, legal history, comparative constitutional law and sports law. In addition, Schmidt is a faculty fellow at the American Bar Foundation, where he serves as the editor of Law & Social Inquiry.