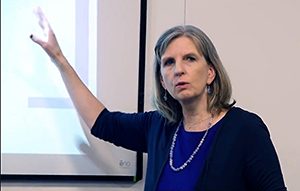 Chicago-Kent College of Law Professor Elizabeth De Armond is a winner of the 2017 Annual Writing Competition of the American College of Consumer Financial Services Lawyers.
Begun in 1996, the annual competition seeks to recognize written contributions to the field of consumer financial services law. De Armond won first place in the competition's professional category for her paper Preventing Preemption: Finding Space for States to Regulate Consumers' Credit Reports, 2016 Brigham Young University Law Review 365 (2016), which analyzes how recent Supreme Court decisions on federal preemption of state law could help states craft legislation to protect consumers' financial privacy. The competition also awards a prize in the student category.
De Armond is the director of the Chicago-Kent Legal Research and Writing Program. She earned her B.S. in Information and Computer Science from the Georgia Institute of Technology, her J.D. from the University of Notre Dame Law School, and an LL.M. from Harvard Law School. Since 1998 she has been a contributing author to publications of the National Consumer Law Center, writing about fraud, RICO and credit reporting. Her scholarly interests include consumer protection and information privacy.
The American College of Consumer Financial Services Lawyers is a professional association of lawyers particularly skilled and experienced in handling consumer financial services matters and dedicated to the improvement and enhancement of the skill and practice of consumer financial services law and the ethics of the profession.