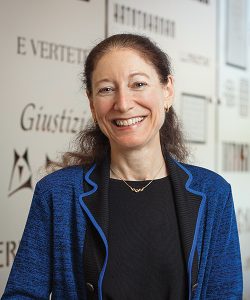 Nancy S. Marder, professor of law and director of the Justice John Paul Stevens Jury Center at Chicago-Kent College of Law, has been selected as a member of the American Law Institute (ALI). The ALI is the leading independent organization in the United States producing scholarly work to clarify, modernize, and otherwise improve the law. Members of the ALI include judges, lawyers, and law professors of the highest qualifications, who work together to produce Restatements of the Law, model statutes, and principles of law that influence courts and legislatures as well as legal scholarship and education. Membership in the ALI is by invitation only, and new members must first be nominated by current members.
Marder, a member of the Chicago-Kent faculty since 1999, is a nationally and internationally recognized expert on juries, judges, and courts. She is the author of numerous law review articles, book chapters, and essays on almost every aspect of the jury. She has written about the American jury as well as juries in other countries.
Marder founded the Justice John Paul Stevens Jury Center at Chicago-Kent to serve as a source of information about the jury for academics, law students, the media, and the public. Under the auspices of the Jury Center, Marder organized an international jury conference in Oñati, Spain, which focused on juries around the world, and a jury conference at Chicago-Kent College of Law, which focused on the American jury. Both conferences resulted in publications, co-edited by Marder and Valerie P. Hans of Cornell Law School. One symposium, titled Juries and Mixed Tribunals Across the Globe: New Developments, Common Challenges and Future Directions, was published in the Oñati Socio-Legal Series, and the other symposium, titled Juries and Lay Participation: American Perspectives and Global Trends, was published in the Chicago-Kent Law Review. Prior to these symposia, Marder organized four other symposia of the Chicago-Kent Law Review on various aspects of juries and courts.
Marder is a frequent speaker at conferences in the United States and abroad. Her subjects have ranged from the jury to judges in popular culture to the role of cameras in the courtroom. Her speaking engagements have taken her as far as Melbourne, Australia, where she was the keynote speaker at a jury conference at the University of Melbourne, to the tiny country of Andorra, where she spoke on gender and judging.
Prior to beginning her teaching career, Marder was a law clerk to Justice John Paul Stevens of the U.S. Supreme Court (1990–92) and then a post-doctoral fellow at Yale Law School (1992–93). She graduated from Yale College, summa cum laude and Phi Beta Kappa, with a double major in English and Afro-American Studies, received a master's degree in international relations from Cambridge University, where she was a Mellon Fellow, and went on to earn her J.D. degree from Yale Law School, where she was an articles editor of the Yale Law Journal and published her first piece on the jury titled Gender Dynamics and Jury Deliberations.