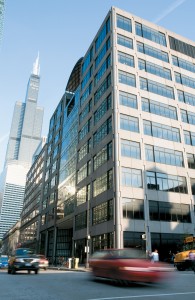 Chicago-Kent College of Law is one of more than 200 locations in the city offering behind-the-scenes access to the public Saturday, October 17 and Sunday, October 18 from 9 a.m. until 5 p.m. during Open House Chicago 2015, presented by the Chicago Architecture Foundation. Visitors are invited to tour the law school's state-of-the-art Bruce M. Kohen Courtroom and the 10th floor I.J. Berkson Reserve Reading Room with breathtaking views of the city's West Side. Learn more about Open House Chicago here.
Bruce M. Kohen Courtroom
Chicago-Kent's newest courtroom, named for acclaimed litigator and former Illinois Trial Lawyers Association president Bruce Kohen '79, opened in 2013 to accommodate the law school's growing trial advocacy program. The 738-square-foot courtroom, designed by architect Thomas Roszak, a 1989 graduate of the College of Architecture at Illinois Tech, includes a six-seat jury bench and a 12-seat gallery. Students can hone their oral advocacy skills while using the latest in courtroom presentation technology. The Kohen Courtroom is outfitted with two 90-inch television monitors and a Crestron system for controlling the lights and audiovisual system, which features three built-in document cameras and four display monitors—one each on the judge's bench, plaintiff and defense tables and the witness stand. Visual display is available via computers, the four display monitors and the TV monitors. The sound system can play audio from computers, cable TV or from the courtroom's three built-in microphones.
I.J. Berkson Reserve Reading Room
The library's 10th floor reading room — named for distinguished Chicago attorney I.J. Berkson, a 1918 graduate of Chicago-Kent — is a favorite study spot for many students. Inspired by traditional reading rooms of the nineteenth century, the Berkson Reading Room is flanked by 14-foot cherry wood bookcases holding the law school's reserve collection and career guides. Look up and you'll see the library's lamella-vaulted ceiling with a distinctive diamond-shaped pattern formed by crisscrossing support beams that rise to 36 feet at the highest point. Our interior architects at the firm of Powell/Kleinschmidt worked with Italian design company Tecno to create the wide study tables with built-in reading lamps that provide gentle illumination. Floor-to-ceiling windows cover the north side of the library, offering views of the city's West Side.