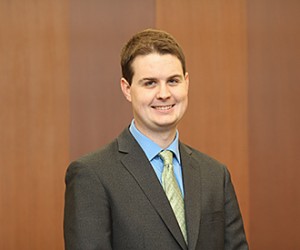 Kenneth Matuszewski, a third-year student at Chicago-Kent College of Law at Illinois Tech, has won the International Trademark Association's (INTA) 2016 Ladas Memorial Award and a $2,500 cash prize for his paper "Casting Out Confusion: How Exclusive Appellate Jurisdiction in the Federal Circuit Would Clarify Trademark Law." Each year, two law or graduate student authors worldwide are selected for the award, which honors the best papers on trademark law or related matters.
In his winning paper, Matuszewski delves into the problem of federal trademark law developing differently in each circuit. He argues that exclusive appellate jurisdiction of trademark cases is needed to ensure uniform trademark rights across the country. The paper will be published this fall in the Western Michigan University Cooley Journal of Practical & Clinical Law and is under consideration by The Trademark Reporter, INTA's legal journal.
"INTA's selection of Kenny's paper as the winner of the Ladas Memorial Award is quite an honor. The paper was provocative, well-researched and well-written," comments Edward Lee, director of Chicago-Kent's Program in Intellectual Property. The paper was originally written for a course Matuszewski took last summer at Chicago-Kent on scholarly writing for intellectual property law students.
Earlier this semester, Matuszewski and his teammate Stephanie Crigler '16 won the Midwest regional championship and regional best brief award in INTA's Saul Lefkowitz Moot Court Competition. The team advanced to the national finals in Washington, D.C., where they finished second and earned second-place awards for best brief and best oral argument.
"Winning the Ladas Memorial Award and placing second at the Lefkowitz Competition are both outstanding feats–and testaments not only to the dedication and work of the students, but also to the first-rate legal writing and moot court instruction at Chicago-Kent," adds Lee.
Matuszewski is also the managing editor of the Chicago-Kent Journal of Intellectual Property, treasurer of the Intellectual Property Law Society, and a pro bono patent agent for Chicago-Kent's Patent Hub, launched earlier this year in collaboration with the U.S. Patent and Trademark Office. He has clerked at Innovalaw PC and at Greer, Burns & Crain Ltd. He also completed an externship with the Patent Trials and Appeals Board of the U.S. Patent and Trademark Office. In his first year of law school, Matuszewski revived the Health Law Society, and has served as the organization's president for the past three years.
Matuszewski majored in biological sciences and Spanish at the University of Notre Dame, where he played tuba in the Band of the Fighting Irish. He continues to play in the Union League Club's brass band twice a month.