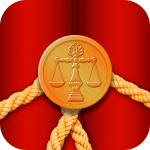 An app created by the Oyez Project of Chicago-Kent College of Law will be among six civic and government apps featured in the upcoming 2013 National Law-Related Education Conference. The Oyez Today app provides the latest information and media on the current Supreme Court, including searchable audio of oral arguments and transcripts.
The conference, titled Citizenship in the Global Era, will be held in Atlanta October 3-5, 2013. Registration information is available here.
The Oyez Today app is available for download here.