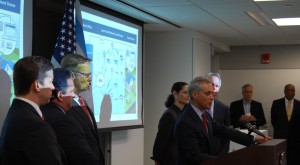 Chicago Mayor Rahm Emanuel, ComEd President and COO Anne Pramaggiore, and Silver Spring Networks CEO Scott Lang joined IIT President John Anderson and other university faculty and officials at the new Robert W. Galvin Center for Electricity Innovation facility on Wednesday to announce the start of large scale hiring of professionals who will implement the city's smart grid infrastructure.
Following a brief tour of the center and a demonstration by ComEd and Silver Spring Networks of how the new systems will decrease and allow better response to outages such as those caused by last summer's lightning storms, the officials discussed the 2,400 jobs the initative will create. The smart grid conversion will be paid for through rate increases approved by state legislation passed last year, which also establishes a $22 million venture fund from ComEd and Ameren for energy entrepreneurs in Illinois.
"At IIT's Robert W. Galvin Center for Electricity Innovation, top researchers from industry, government and academe are working on exciting developments in smart grid infrastructure and perfect power," said Anderson in his remarks introducing Mayor Emanuel. "We are also educating the men and women who will be leading and managing the global challenges and opportunities of smart grid technologies. We are especially proud of the IIT SmartGrid Workforce Training Center, which will enhance the regional economy through the creation of new, sustainable green jobs."
The Galvin Center is also home to the Wanger Institute for Sustainable Energy Research (WISER). More than 50 IIT faculty members are currently involved in projects that include smart grid and perfect power researchand more than 50 Ph.D. dissertations have been written in sustainability and energy-related areas. Construction of the new facility, located in the IIT Tower on Main Campus, was completed this month.