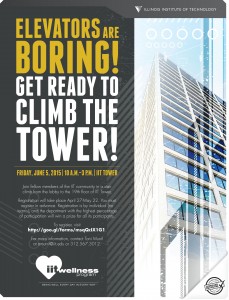 Elevators are boring; get ready to Climb the Tower.
Join fellow members of the Illinois Institute of Technology community on Friday, June 5, 2015 beginning at 10 a.m. in a stair climb from the lobby to the 19th floor of IIT Tower.
Registration will take place Monday, April 27, through Friday, May 22 at 5 p.m. You must register in advance. Registration is by individual (no teams), and the department with the highest percentage of participation will win a prize for all its participants.
To register, click here.
For more information, contact Toni Murril at amurril@iit.edu or 312.567.3012.