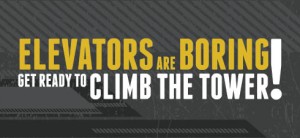 On Friday, June 15, 77 people laced up their shoes, stretched their leg muscles and climbed 38 flights of stairs to the 19th floor of the IIT Tower. Everyone who started the journey successfully completed the climb to the top of the Tower. Climbers were awarded a certificate of participation along with t-shirts and pens with the slogan, "I Climbed the Tower."
The following climbers were recognized for accomplishments:
Best Dressed Climber – John Leever
Climbed The Tower Twice – Dave Scott
Raffle Prize Winners:
John Leever, Graduate Academic Affairs
Cheryl Gaines, Stuart School of Business
Tamara Posley, Student Accounting
The Office of Student Accounting had the highest participation percentage with 42.86 percent giving them bragging rights and the traveling Climb The Tower trophy.
Check out photos from the event here.