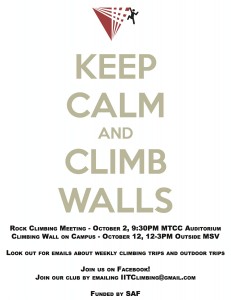 Keep calm and climb walls!
The IIT Rock Climbing Club will hold a meeting at 9:30 pm Tuesday, October 2 in the MTCC Auditorium. Watch out for the climbing wall that will be set up outside McCormick Student Village on Friday, October 12 from noon–3 pm!
The club will be sending out emails about weekly climbing trips and outdoor trips. Check out the club's Facebook page or join by emailing IITClimbing@gmail.com. Funded by the Student Activity Fund.