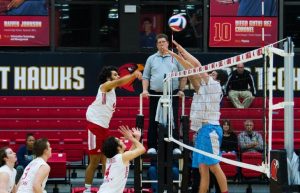 Illinois Tech Men's Volleyball made its home opener one to remember, using an overwhelming offense to surge back after falling behind 2-0 to earn a 3-2 victory. The win moved Illinois Tech's record to 2-4 on the season, while dropping Trinity Christian to 1-3.
Scores 
Illinois Tech 3, Trinity 2 (18-25, 21-25, 26-24, 25-22, 15-10)
How it Happened
After both teams struggled on offense to start the set, Trinity Christian was able to overcome the sloppiness to pull away and win 25-18 with a .227 hitting percentage in the set.
Despite being outhit .320% to .033% in the second set, the Scarlet Hawks managed to remain close. With Illinois Tech up 18-15, the Trolls embarked on a 8-0 run to flip the script on the contest.
In set three, no team led by more than four (Illinois Tech 13-9) in the set's entirety. Things were even tighter at the end of the set, with ties of 20-20, 21-21, 23-23, and 24-24. In a foreshadowing of set four's events, Cinjun Coe gave Illinois Tech a 25-24 lead with a kill. He, along with Andriy Bench, followed that point up with a block assist for the 26th and decisive point.
Coe absoultely took over in the fourth set, willing the Scarlet Hawks in another tight set. He was a huge reason for Illinois Tech's .424 hitting percentage in the set, tallying 10 kills on 14 attempts for a .719 hit percentage individually. The 10 kills are the highest in a single-set by a player in the three-year history of the program.
With all the momentum, the Scarlet Hawks jumped out to a 6-2 early advantage. Trinity managed to hang around, but an attack error doomed the Trolls late as Illinois Tech took the deciding set 15-10.
Scarlet Hawk Standouts
Coe used his 10-kill fourth set to aid in his 21-kill evening to lead all players. He finished with a .277 hit percentage while also tallying three aces.
Lukasz Kupiec was also solid on the attack, tallying 14 kills.
Easton Kays (seven kills, .455 hit percentage, three aces) and Bench (six kills, four total blocks) controlled the middle.
Ben Peschl had a double-double of 34 assists and 10 digs.
Libero Derek Bostick had 16 digs and three service aces.
Stats to Know
The early theme of the match was sloppiness from the service line. The two teams combined for 36 total service errors, each committing 18 apiece.
While the Scarlet Hawks had 54 kills compared to TC's 46, the Trolls outhit Illinois Tech .256% to .169%.
Digs were nearly even, with Illinois Tech narrowly outdoing the Trolls 49-46.
Up Next
Illinois Tech will play at nearby Aurora University on Saturday, January 27 taking on Augustana University at 5 p.m. before facing the host Spartans at 7 p.m.