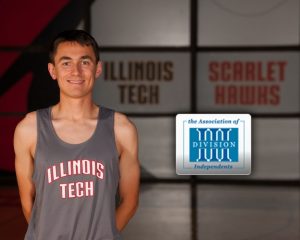 Cole Dammeier has had a very impressive 2017 season. His first four meets in September earned him the Association of Division III Independents Student-Athlete of the Month honor for men's cross country, while his meet this past week netted AD3I's Player of the Week Award.
Dammeier opened the month finishing 21st out of 127 runners at the Elmhurst Earlybird Invite on September 1 with a 6K time of 20:18. The junior later posted 15th place finishes at the Wisconsin-Whitewater Invite (September 16) and Wisconsin Lutheran Invite (September 30). Dammeier posted a time of 28:41.9 in the 8K race at the Whitewater Invite and concluded the month with a time of 27:49.59 at the Lutheran Invite.
On October 6 he finished in 21st place out of 175 runners in the Benedictine University Eagle Invite. He posted a time of 27:07.9 in the 8K race, which took place at St. James Farm in Warrenville, Illinois.
Men's Cross Country hits the course next on Saturday, October 14 at the large UW-Oshkosh Invite. The race, which will take place at Lake Breeze Golf Course in Winneconne, Wisconsin, is set to begin at 11:15 a.m.