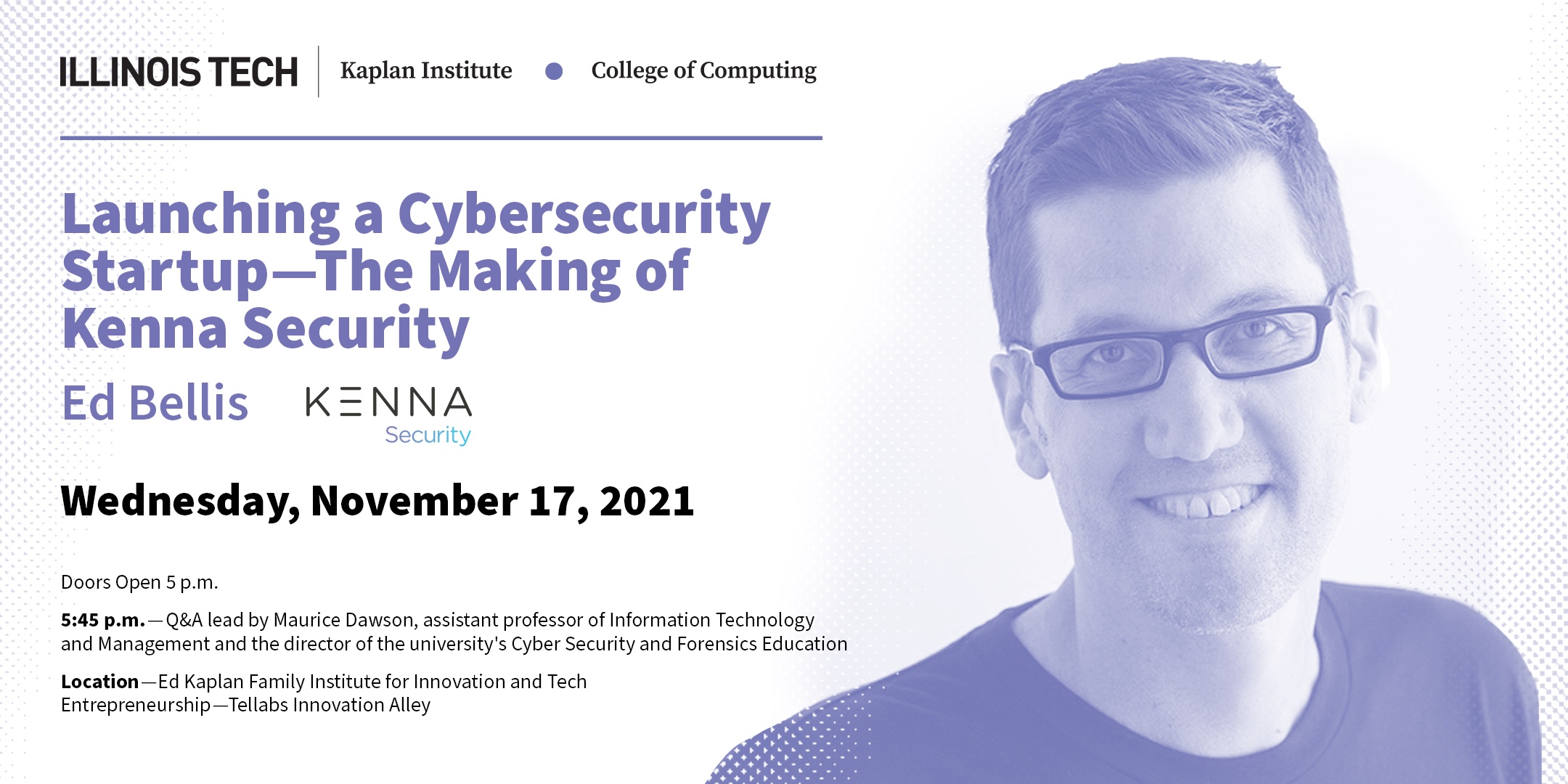 Cybersecurity is the practice of protecting systems, networks, and programs from digital attacks. These cyberattacks are usually aimed at accessing, changing, or destroying sensitive information, extorting money from users, or interrupting normal business processes.
Implementing effective cybersecurity measures is particularly challenging today because there are more devices than people, and attackers are becoming more innovative. With more security threats, there is a need to prioritize which threats to investigate. That's the need that Ed Bellis, co-founder of Kenna Security, chose to solve.
On Wednesday, November 17, join the Ed Kaplan Family Institute for Innovation and Tech Entrepreneurship and the Illinois Institute of Technology College of Computing in hosting Bellis and hearing his story. Maurice Dawson, an assistant professor of information technology and management at Illinois Tech and the director of the university's Center for Cyber Security and Forensics Education, will interview Bellis about his experience building Kenna Security as its chief technology officer and successfully selling it to Cisco this summer.
Ed Bellis is the founder of Kenna Security, a company that delivers a data-driven, risk-based approach to remediation that helps information technology teams prioritize and thwart would-be security threats. He is the former chief information security officer of Orbitz and former vice president of corporate information security at Bank of America. He is currently an adviser to Oak9 and Dascena, as well as a board member for Polymer. Bellis is a contributing author to the book Beautiful Security and a frequent speaker at industry conferences and events.
Date: Wednesday, November 17, 2021
5:00 p.m. | Doors open
5:45 p.m. | College of Computing faculty member Maurice Dawson interviews Kenna Security Founder Ed Bellis
Register using this link: https://www.eventbrite.com/e/launching-a-cybersecurity-startup-tickets-166683453697