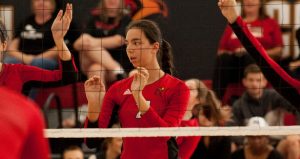 The Illinois Tech Women's Volleyball team faced Kalamazoo College on September 19. Illinois Tech fell to the Hornets 3-1 to move to 1-8 on the season. Kalamazoo improved to 3-10.
Set Scores
KC 3, Illinois Tech 1 (13-25, 19-25, 25-13, 23-25)
How it Happened
A 4-0 lead to start the match was all the Hornets needed to gain momentum. Kzoo did not allow the Scarlet Hawks to score consecutive points in the set.
The Hornets scored three unanswered to start the second set, but the Scarlet Hawks fought back to take a 7-6 lead on an attack error. After two Hornet points, a 4-0 run vaulted Illinois Tech ahead 11-8. The Hornets went on a 4-0 rally to take the lead for good.
The Scarlet Hawks started the third set on a 7-1 run, highlighted by an assisted block featuring Justine Bracco and Alyssa Miner. Courtney Darling and Courtney Curcio also aided runs through the set with consecutive aces. Taylor Burton iced the 25-13 set with a kill from Allison Wilkins.
The Scarlet Hawks were the first to jump ahead in the fourth set, building four-point leads of 7-3 and 9-5. With Illinois Tech up 10-8 later on, Kalamazoo scored five of the set's final seven points to stave off the Hawks.
Scarlet Hawk Standouts
Freshman Karen Marrufo-Zubaran led the team with 11 kills. She also added 14 digs.
Curcio (18 digs, two aces) and Sinjin Acuna (16 digs) were strong in the back row.
Burton, Bracco, and Phelps each had seven kills. Bracco also contributed two block assists.
Miner had four total blocks (two solo, two assisted).
Stats to Know
The Scarlet Hawks outdid the Hornets 39-38 in kills, but were outhit .085% to .039%.
Digs were near even, with the Hornets slightly leading 75-71.
Illinois Tech led in blocks 6-5.
Up Next
The Scarlet Hawks will host Lake Forest College in a non-conference match on Friday, September 21 at 7:30 p.m. in the Keating Sports Center. Live audio, video, and stats will be available. The live audio will be powered by Illinois Media School.