The Muslim Students Association at Illinois Tech will host Chicago comedian Azhar Usman, famous for his routine "Allah Made Me Funny" on Thursday, April 14.
Join us from 7-8:30 p.m. in Armour Dining Hall in Hermann Hall for refreshments and a night of comedy. Bring friends and enjoy some amazing standup before finals.
A limited number of seats are available. RSVP, at no cost, here. Doors will close once the routine begins.
Usman is a Chicago-based standup comedian, actor, writer, and producer. CNN called him "America's Funniest Muslim," and Georgetown University identified him as "one of the 500 Most Influential Muslims in the World." In 2010, standup icon Dave Chappelle–for whom Azhar has opened over 50 times–commented "Azhar Usman is untouchable." As the co-founder of the international comedy showcase "Allah Made Me Funny–The Official Muslim Comedy Tour," he has toured over 20 countries, on five continents. His comedy has been profiled/reviewed by over 100 major world media outlets including The New York Times, The Economist, BBC, The Guardian, NPR, TIME Magazine, Al-Jazeera, USA Today, and Fox News. Besides appearing regularly on television, and in numerous documentary and independent films, he served as executive producer of Mo Amer's new one-hour standup special "Legally Homeless" (directed by Jay Chapman, expected release 2016), and most recently, served as a creative consultant on Hannibal Buress' 2016 Netflix comedy special, "Comedy Camisado."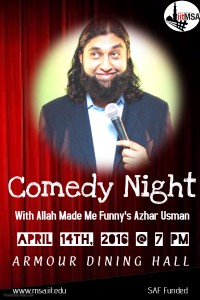 This event reflects the values expressed in IIT's Diversity Statement and is intended to promote diversity at Illinois Tech.