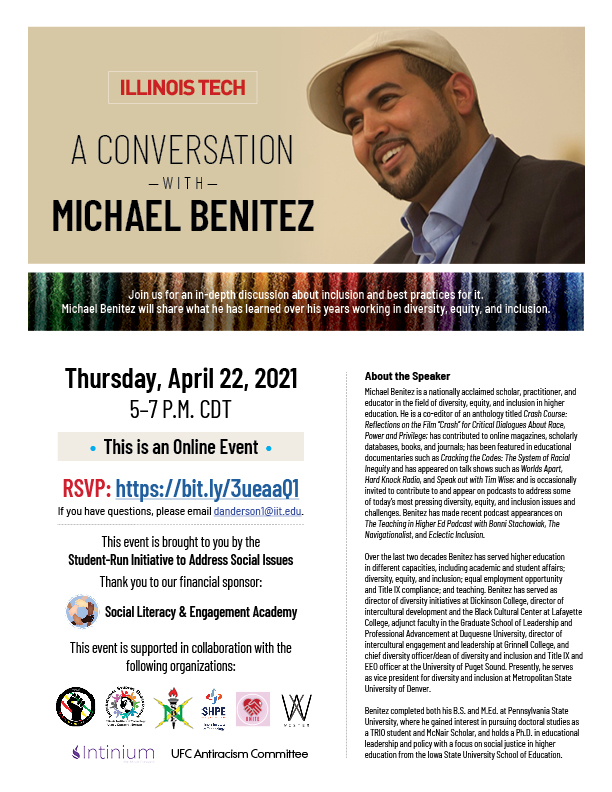 Join us for an in-depth discussion about inclusion and best practices for it. Michael Benitez will share what he has learned over his years working in diversity, equity, and inclusion.
RSVP here: https://forms.gle/G5HKwoeMtXT1qxiHA
If you have questions, please email danderson1@iit.edu.
Sincerely,


Peter Kilpatrick,
Provost, Illinois Institute of Technology,
and
Student-Run Initiative to Address Social Issues
About the Speaker
Michael Benitez is a nationally acclaimed scholar, practitioner, and educator in the field of diversity, equity, and inclusion in higher education. He is a co-editor of an anthology titled Crash Course: Reflections on the Film "Crash" for Critical Dialogues About Race, Power and Privilege; has contributed to online magazines, scholarly databases, books, and journals; has been featured in educational documentaries such as Cracking the Codes: The System of Racial Inequity and has appeared on talk shows such as Worlds Apart, Hard Knock Radio, and Speak out with Tim Wise; and is occasionally invited to contribute to and appear on podcasts to address some of today's most pressing diversity, equity, and inclusion issues and challenges. Benitez has made recent podcast appearances on The Teaching in Higher Ed Podcast with Bonni Stachowiak, The Navigationalist, and Eclectic Inclusion.
Over the last two decades Benitez has served higher education in different capacities, including academic and student affairs; diversity, equity, and inclusion; equal employment opportunity and Title IX compliance; and teaching. Benitez has served as director of diversity initiatives at Dickinson College, director of intercultural development and the Black Cultural Center at Lafayette College, adjunct faculty in the Graduate School of Leadership and Professional Advancement at Duquesne University, director of intercultural engagement and leadership at Grinnell College, and chief diversity officer/dean of diversity and inclusion and Title IX and EEO officer at the University of Puget Sound. Presently, he serves as vice president for diversity and inclusion at Metropolitan State University of Denver.
Benitez completed both his B.S. and M.Ed. at Pennsylvania State University, where he gained interest in pursuing doctoral studies as a TRIO student and McNair Scholar, and holds a Ph.D. in educational leadership and policy with a focus on social justice in higher education from the Iowa State University School of Education.