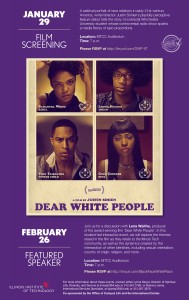 Plan to attend a discussion with Lena Waithe, producer of the award-winning film Dear White People. In this student-led interactive event, we will explore the themes raised in the film as they relate to the Illinois Institute of Technology community, as well as the dynamics created by the intersection of other identities, including sexual orientation, country of origin, religion, and more.
The event will be held on Thursday, February 26 at 7 p.m. in The McCormick Tribune Campus Center (MTCC) Auditorium. Please RSVP by clicking here.
Questions? Contact either Lynne Meyer, director of spiritual life and service learning at lmeyer2@iit.edu or 312.567.3160 or Brianna Jones, international services specialist, at bjones22@iit.edu or 312.567.3870.
The Office of Campus Life and the International Center are co-sponsors of the event.