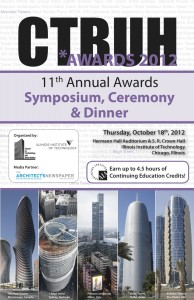 The Council on Tall Buildings and Urban Habitat (CTBUH) 2012 Award Winners will be recognized and awards conferred at the CTBUH 11th Annual Awards Ceremony & Dinner on Thursday, October 18, organized in conjunction with Illinois Institute of Technology. All of the winning projects and finalists will be celebrated at this gala event, as well as the 2012 CTBUH Fellows. Additionally from the four regional Best Tall Building winners, one "worldwide" winner will be chosen and announced to close out the dinner event.
The ceremony and dinner will be preceded by a free awards symposium featuring presentations from all of the 2012 winners as well as some finalists. Join us to hear from senior representatives of these ground breaking projects, as well as from the 2012 CTBUH Lifetime Achievement Award winners who have influenced the tall building profession for decades.
The CTBUH 2012 Awards Exhibition, showcasing poster presentations of the winning projects and finalists, will also be open for viewing during the awards symposium in IIT Hermann Hall's Gallery Lounge.
Schedule, speaker info, and registration available on the 11th Annual Awards Symposium, Ceremony & Dinner website.