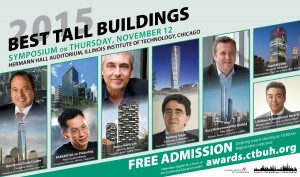 The CTBUH 2015 Award Winners will be recognized at the Council on Tall Buildings and Urban Habitat (CTBUH) 14th Annual Awards Symposium, Ceremony and Dinner, organized in conjunction with the Illinois Institute of Technology on Thursday, November 12, 2015 at 10 a.m. in the Hermann Hall Auditorium. The free Awards Symposium (registration is required) will feature presentations from the 2015 winners, client and design teams of these groundbreaking projects, as well as from the 2015 CTBUH Lifetime Achievement Award winners whom have influenced the tall building profession for decades. The Symposium program features leading architects and developers such as:
Santiago Calatrava, Santiago Calatrava Architects & Engineers – for Turning Torso, Malmö
Stefano Boeri, Boeri Studio – for Bosco Verticale, Milan
Mun Summ Wong, WOHA Architects – for PARKROYAL on Pickering, Singapore
Kenneth Lewis, Skidmore, Owings & Merrill– for One World Trade Center, New York
James Goettsch, Goettsch Partners – for Al Hilal Bank Tower, Abu Dhabi
Shinichi Takeuchi, Toyo Ito Associates – for Capitagreen, Singapore
Douglas Durst, Durst Organization– for One World Trade Center, New York
Hiroo Mori, Mori Building– Lynn S. Beedle Lifetime Achievement Award
Jan Andersson, HSB Malmö – for Turning Torso, Malmö
Symposium attendees are eligible for five hours of AIA Continuing Education Credits.
The venue has limited seating capacity. Register here today.