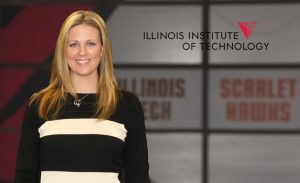 Last month, Illinois Institute of Technology's Student Employment Office named its Distinguished Student Supervisors. Illinois Tech Athletics' Director of Intramural and Recreation, Courtney (Budd) Priest, was one of four selected for the honor out of 133 nominated supervisors.
Distinguished supervisors are chosen for providing meaningful work experience, feedback, and support to their staff of student employees. Priest was nominated by six of her Recreational Sports and Fitness (RSF) employees, the second-most nominations received of any student supervisor on Illinois Tech's campus.
"Courtney Budd instills passion about RSF in student employees and inspires us, listens to suggestions actively, and always respects each student's availability," said Parth Lineswala. "She trusts her employees completely for managing a sport, encourages us to give our best in what we do, and shows enthusiasm for everyone that participates in recreational sports."
"It is always nice to be recognized for your work, but for me, it is particularly meaningful that my student-workers nominated me for this honor," said Priest. "I am incredibly grateful to work with such great students. While it's important to me that my student-workers do their best to ensure great quality in RSF programming, I feel a responsibility to ensure they are gaining valuable experience that will prepare them for their next steps into their professional career."
Priest was one of five Illinois Tech Department of Athletics staff members nominated for the Distinguished Student Supervisor award. Jennifer Agosto (director of compliance and athlete services), Kyllian Griffin (director of aquatics and assistant facilities director), Luke Stanczyk (sports information director), and Ed Zeifert (director of event management) were also nominated by multiple student employees.