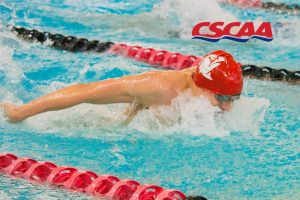 The College Swimming Coaches Association of America (CSCAA) has selected the Division III Scholar Teams for the fall 2017 semester. The teams represent 430 institutions from across all NCAA, NAIA and NJCAA divisions. The Illinois Tech men's and women's swimming teams were one of more than 600 that received the distinction for academic and athletic achievement.
In order to qualify as a Scholar All-American team, a team needed to record a collective grade point average of at least 3.0 on a four-point scale. This is the fourth straight semester in which the women's team has received this honor and the fourth in the last five semesters in which the men's team has claimed the award. Illinois Tech had 12 team wins between the men and women during the fall 2017 semester.
Illinois Tech will be in action on Saturday, February 3 at home against Lake Forest for Senior Day. The meet will begin at 1 p.m. at Ekco Pool in the Keating Sports Center. Live video for the meet will be available.