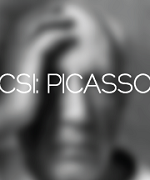 CSI: Picasso, an affiliate program of Chicago Ideas Week 2012, presented by the Chicago Council on Science and Technology (C2ST), will be held in the MTCC Auditorium at 6 pm on Wednesday, October 10, preceded by a reception and registration starting at 5 pm.
Visit the C2ST site for more information and to register. Admission for C2ST non-members is $10 with advance registration, $15 at the door, and $5 for students.
Speakers: Francesca Casadio PhD., A.W. Mellon Conservation Scientist at the Art Institute of Chicago and Allison Langley, Paintings Conservator at The Art Institute of Chicago
Pablo Picasso's (1881-1973) masterful metamorphoses extend beyond the manipulation of painted surfaces to his pioneering introduction of industrial, commonplace materials into the fine art's studio. The Art Institute of Chicago's 17 Picasso paintings dated from 1901 to 1959 span the artist's career. Using as starting point "The Old Guitarist, 1903/04" – a quintessential blue period painting- and "The Red Armchair" (1931) – an archetypal "Ripolin" painting- this talk will explore how the combination of state of the art means of scientific analysis and technical imaging can shed light on the materials and methods of one of the most important artists of the 20th century. While "The Old Guitarist, 1903/04" represents a classic case of the artist building a new composition over previous ones, "The Red Armchair " represents an instance of the artist's innovative use of unconventional painting materials. This interdisciplinary talk provides an increased understanding of the connection between material choices and meaning in the oeuvre of Picasso and will provide the audience with unexpected glimpses into the artist's Protean creativity.