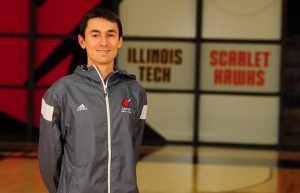 The Illinois Tech Men's Track and Field team continued to show steady improvement on February 18 at the University of Chicago Margaret Bradley Invitational. The Scarlet Hawks placed seventh at the meet and set a school record in the process.
Meet Highlights
Cole Dammeier set a school record in the 3000 Meter Run and came within seven seconds of winning the race. He placed third with a time of 9:08.32. Jake Tracey followed him with a 13th place finish (10:01.64). 
Demis Thomas had a strong run in the 200 Meter Dash, placing 11th with a time of 54.32s. Rayan Baig was not far behind, as he placed 13th at 54.52s.
In the 60 Meter Dash, Baig was strong with a time of 7.56s (24th place). Thomas placed 32nd in the same event (7.68s).
Saisaketh Valluri earned points for the Scarlet Hawks with a fourth place triple jump finish (12.16m).
Up Next
Illinois Tech will head to Anderson, Indiana, on Saturday, February 25 for the Anderson University Fred Wilt Invite.