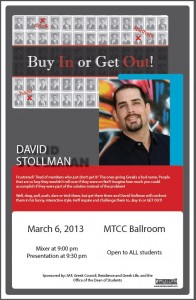 Frustrated? Tired of members who just don't get it? People who are giving your organization a bad name, who are so lazy they wouldn't roll over if they were on fire? Imagine how much you could accomplish if they were part of the solution rather than part of the problem!
Well, drag, push, pull, dare, or trick them there, but get them there and David Stollman will confront them in his funny, interactive style. He'll inspire them and challenge them to… Buy In or GET OUT!
Wednesday, March 6, 2013
MTCC Ballroom
Mixer – 9 pm
Presentation – 9:30 pm
Open to all students
Sponsored by Greek Council, Residence and Greek Life, the Office of the Dean of Students, and the SAF.