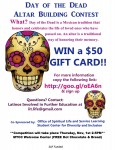 Join us in the Day of the Dead celebration activities!
Day of the Dead is a Mexican tradition that honors the death of loved ones who have passed away. We celebrate their death by creating an altar as a way of honoring their memory. Altars may include sugar skulls, day of the dead bread, candles, marigolds, pictures, skeletons, and food liked by the honored one.
Take part in the Altar Building Contest and a chance to win a $50 gift card. Sign up here. We provide you with all the materials!
You can also make altar contributions. All IIT students and staff are invited to bring a memento or photograph memorializing a special someone who has passed in a celebration of Day of the Dead. Please bring your contribution anytime through Thursday, November 1 at the MTCC Bridge (close to the TV screen).
A Day of the Dead Celebration will be held from 2 – 5 pm on November 1 at the MTCC Welcome Center. Enjoy free hot chocolate and Day of the Dead bread! All competition altars will be displayed.
Sponsored by Latinos Involved in Further Education, the Office of Spiritual Life and Service Learning, and the Student Center for Diversity and Inclusion.