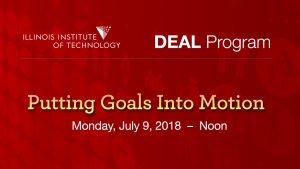 It's easy to be excited about new performance review goals, however it can often be hard to know where to begin when it comes to goal execution. Join a group of successful peers including Janessa Barbian, Nate Robbins, Shavonn Nowlin, Joey Carrillo, and Sarah Pariseau as they share their tips on approaching, tracking, and completing goals. They will also lead a group activity so attendees can begin to visualize success with any current and future goals.
This session will take place on Monday, July 9 at noon in the Robert A. Pritzker Science Center, Room 129. If you are unable to attend in person, the event will be live streamed. Feel free to bring your lunch to enjoy during the session.
DEAL is programming aimed at peer-to-peer development and support through training for the Illinois Tech staff community. The goal is to create developmental programming for all staff each semester by drawing on the expertise of those within the community.
If you have any questions, please contact Elizabeth Wahlstrom Helgren (ewahlstr@iit.edu), Alex Carlson (acarlso3@iit.edu), or Tara Butterfield (butterfield@iit.edu).