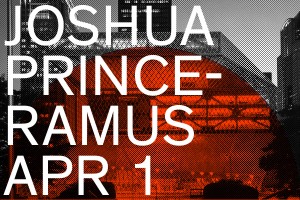 Joshua Prince-Ramus, author of the MCHAP Finalist Seattle Central Library, will deliver the MCHAP Lecture on Wednesday, April 1 at 6:30 p.m. in S. R. Crown Hall as part of the Spring 2015 Dean's Lecture Series.
Prince-Ramus is a principal of REX. REX is an internationally acclaimed architecture and design firm based in New York City, whose name signifies a re-appraisal (RE) of architecture (X). Prince-Ramus was the founding partner of OMA New York—the American affiliate of the Office for Metropolitan Architecture/Rem Koolhaas—and served as its Principal until he repositioned the firm as REX in 2006.
While REX was still known as OMA New York, Prince-Ramus was Partner in Charge of the Guggenheim-Hermitage Museum in Las Vegas and the Seattle Central Library, hailed as Time Magazine's 2004 Building of the Year and by Herbert Muschamp in the New York Times as "the most exciting new building it has been my honor to review in more than 30 years of writing about architecture." In 2005, the Seattle Central Library was awarded the top honors bestowed by the American Institute of Architects, the American Council of Engineering Companies, and the American Library Association.
The work of REX and Prince-Ramus has been exhibited and published extensively. Prince-Ramus has been credited as one of the "Five greatest architects under 50" by The Huffington Post, one of the world's most influential young architects by Wallpaper*, one of the twenty most influential players in design by Fast Company, and listed among "The 20 Essential Young Architects" by ICON magazine. Underscoring REX's faith in architectural performance over mere imagery, Prince-Ramus was cheekily dubbed "the young savior of American architecture" by Esquire in an article examining his "holy war against the sculptors, starchitects, and fey theoreticians of his profession."
Prince-Ramus was the Eero Saarinen Visiting Professor at the Yale School of Architecture, and a visiting professor at Columbia University's Graduate School of Architecture, Planning, and Preservation; Harvard University's Graduate School of Design, the MIT School of Architecture + Planning, and Syracuse University's School of Architecture. He is a member of the TED Brain Trust—along with thinkers such as Bill Gates, Craig Venter, Dean Kamen, Jeff Bezos, Larry Page, and Sergey Brin—and shared REX's design methodologies for the Seattle Central Library, the Dee and Charles Wyly Theatre, and Museum Plaza at the TED2006 and TEDxSMU conferences. Videos of these TEDTalks can be found online here.