What comes to mind when you hear the words "fair trade"?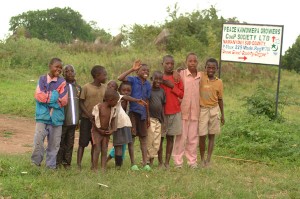 "Delicious Peace" tells the story of Christian, Muslim and Jewish farmers in a small Ugandan village who put aside their differences to form the Delicious Peace Coffee Cooperative, hoping to improve their lives and provide for their families. The co-op was able to expand and flourish after establishing a partnership with a fair trade buyer in the United States.
This film shows, up close and personal, the impact a fair trade opportunity can have on a community; it doesn't just mean that we can buy more delicious organic chocolate at Whole Foods (although that's a great perk). More importantly, it brings fair wages to these farmers, which can mean finally being able to send a child to school, or fix a leaky roof. Fair trade initiatives also bring communities together by calling recipients to support local projects.
Join us for this free event, to be held on Wednesday, April 3 from 6:30–8:00 pm in the MTCC Auditorium, to celebrate the interfaith work of Delicious Peace. Tasty fair trade refreshments will be provided!
Enter to Win a Fair Trade Gift Basket! Raffle tickets are three/$5 or one/$2. The winner will receive a basket full of all kinds of fair trade goodies, like coffee and chocolate. All proceeds will go to Innovation Africa, a non-profit 501(c)(3) that brings Israeli innovation to African villages. Since the organization's start in 2008, it has provided light, clean water, food and proper medical care to more than 450,000 people in Ethiopia, Tanzania, Malawi and Uganda. For more information, visit the Innovation Africa website.
Questions about this event? Contact Lynne Meyer, director of Spiritual Life and Service Learning, at lmeyer2@iit.edu or 312-567-3160.