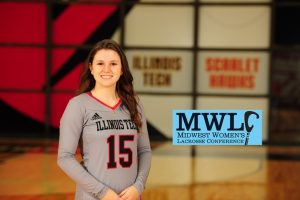 For the second time this season, Alyssa DeLuca has earned the Midwest Women's Lacrosse Conference Player of the Week award. The Wrentham, Massachusetts, native received the honors for her performance between March 27 and April 2.
The MWLC leader in goals, DeLuca added to her total during Illinois Tech's two matches last week. At Carroll University on March 30, DeLuca scored six times and added two draw controls during a 15-0 win over the Pioneers. On April 1 at home against MWLC foe Cornell College, DeLuca set an Illinois tech record with 10 goals in the contest while also adding six ground balls and four draw controls in the team's 22-0 win. The 22 goals were also a team record. Her conference-best goal total now stands at 54.
Illinois Tech is back in action on Wednesday, April 5 for another MWLC contest. The team will play at Benedictine University at 7 p.m.