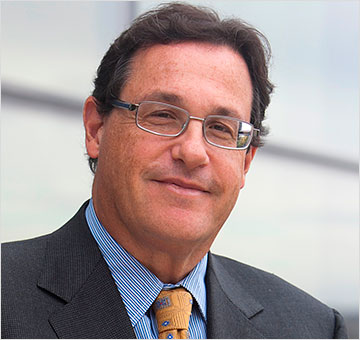 Wednesday, September 4
Perlstein Hall 131–Auditorium
3 – 4 p.m.
Jonathan S. Dordick, Ph.D.
Professor of Chemical and Biological Engineering, Biomedical Engineering and Biological Sciences
Special Advisor to the President for Strategic Initiatives, Center for Biotechnology & Interdisciplinary Studies
Rensselaer Polytechnic Institute
"Breaking Away from Nature's Boundaries Using Biologically Active Nanocomposites in Medicine and Beyond"
Abstract
Nature is unparalleled in its structural and functional diversity. In many cases, nature has provided us with a blueprint to overcome gaps in our therapeutic arsenal. We have taken cues from nature to design biotic-abiotic assemblies with unique structural and functional properties. In this talk Jonathan S. Dordick will highlight our recent efforts to understand further the interface of biology with nanotechnology and focus this interface on solving key problems in medicine and our common infrastructure. We have uncovered unique properties of nanomaterials that stabilize enzymes for use under harsh conditions. We have also identified and engineered a broad range of enzymes with activities tailored to kill pathogenic bacteria, such as hospital-acquired methicillin-resistant Staphylococcus aureus (MRSA), food-borne Listeria, and bacillus spores. Enzyme-containing nanocomposites and coatings were prepared that led to decontaminated surfaces that serve as a safe and potentially broadly applicable route to eliminating pathogenic microorganisms from common societal infrastructure, including hospitals, food processing plants, airplanes, schools, etc. Finally, we have developed a genetically encoded protein-based nanoparticle-generating system for remote control of gene expression by radiofrequency-driven alternating magnetic fields. This unique bridging of biology and materials science can be used control biologically-relevant protein expression for biotherapeutics, regenerative medicine and novel biocatalysts.
 Short Biography
Jonathan S. Dordick is the Howard P. Isermann Professor of Chemical and Biological Engineering at Rensselaer Polytechnic Institute, with joint appointments in the Departments of Biomedical Engineering and Biological Sciences, and an adjunct appointment at the Rockefeller University. He received his B.A. degree in Biochemistry and Chemistry from Brandeis University and his Ph.D. in Biochemical Engineering from the Massachusetts Institute of Technology. At Rensselaer, he served as the Vice President for Research, the Director of the Center for Biotechnology & Interdisciplinary Studies, and Department Chair. Prior to joining Rensselaer, he was Professor of Chemical and Biochemical Engineering at the University of Iowa, where he also served as the founding Associate Director of the Center for Biocatalysis and Bioprocessing. Dordick's research group includes chemical engineers, bioengineers, materials scientists, biologists, chemists, microbiologists and computational scientists all focused on gaining a quantitative understanding of biological principles and applying them to advance bioengineering and biomanufacturing. He has served the biochemical engineering community as a previous chairman of the Biotechnology Division of the American Chemical Society and as an Editor of Biotechnology & Bioengineering.
Dordick has made foundational contributions to enzyme technology, microscale cell culture engineering, drug discovery and human toxicology, and biomanufacturing. He pioneered the development of enzymatic and chemoenzymatic methods for new materials synthesis, initiated the new field of molecular bioprocessing, which combines biocatalytic molecular diversity and in vitro metabolic pathway engineering with high-throughput and high-content microfluidic- and microarray-based tools to generate biologically active compounds, and greatly expanded the fundamental understanding of enzymatic catalysis in abiotic environments critical for chemical and pharmaceutical processing. Finally, he has used biomolecular discovery and engineering to address clinical translation in areas of infectious disease, neurological diseases and anticoagulant therapy.
Dordick has received numerous awards, including the Amgen Award in Biochemical and Molecular Engineering, Food, Pharmaceutical and Bioengineering Award of the American Institute of Chemical Engineers, Marvin J. Johnson Award and the Elmer Gaden Award of the American Chemical Society, the International Enzyme Engineering Award, and an NSF Presidential Young Investigator Award. He is an elected Fellow of the National Academy of Inventors, the American Chemical Society, the American Association for the Advancement of Science, and the American Institute of Medical and Biological Engineers. He has cofounded several companies, including EnzyMed (now part of Albany Molecular Research, Inc.), Solidus Biosciences, Inc., and Redpin Therapeutics. He has also served on multiple White House-sponsored panels and committees in biomanufacturing. Dordick has published over 380 papers and is an inventor/co-inventor on over 45 patents and patent applications.
Light refreshments will be served.