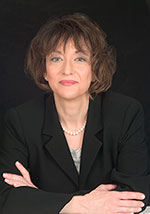 Join the Department of Chemical and Biological Engineering for a special seminar on Wednesday, January 31 from 3:15–4:30 p.m. in Perlstein Hall Auditorium, co-sponsored by Armour College of Engineering. The seminar, titled "Creating New Theatre Work Using the Scientific Process," will feature Nancy Kawalek, founder/director, STAGE @ IME, professor; Distinguished Fellow in the Arts, Sciences and Technology at the Institute for Molecular Engineering, University of Chicago, and director, The Art of Questionable Provenance.
New methods of communication are required to actively address the public's interests in and concerns about scientific information and conclusions. Recognizing this challenge, the STAGE lab's distinct research focuses on creating and developing new theatre work inspired by science and technology. Rather than science lectures disguised as plays, these are emotionally engaging, entertaining stories that convey the flavor, substance and texture of scientific activity in a manner that goes far beyond any stereotypes. Moreover, technology is integrated into the staging of the lab's plays as a crucial part of telling the story, not just for special effect. This talk will address how STAGE looks to the scientific process itself to drive a distinct approach, one that endeavors to captivate and excite the public about science while also promoting interdisciplinary collaborations among scientists and artists.
Kawalek, an artist and innovator specializing in the creation and development of theatre inspired by science and technology, is a professor and Distinguished Fellow in the Arts, Sciences and Technology at the University of Chicago's Institute for Molecular Engineering. As the inaugural studio professor at the University of California, Santa Barbara, she founded and directed STAGE at UCSB's California NanoSystems Institute. Kawalek has more than twenty-five years of experience in the professional theatre world as an actor, director, and writer. Her credits include working on Broadway, Off-Broadway, and in regional theatre, as well as in film and television. She conceived and directed the opening events for the 100th anniversary of the Solvay Conferences in Physics, as well as the Nobel Week 2013 Festivities in Gothenburg, Sweden: casting and directing Nobel Laureates David Gross and Alan Heeger, and Olivier Award-winning British actor Fiona Shaw, in a staged reading of Michael Frayn's Tony Award-winning play, Copenhagen.