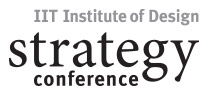 As we shift from the 20th century economy of scale to an economy of choice, design morphs with organizational strategy. The new landscape requires reconsideration of our notion of property, and new design tools that create value. IIT Institute of Design Strategy Conference brings together thought leaders from industry, civic organizations and government to see and discuss news ways of working that fit the volatility of today.
Recently, three new speakers were announced– Gary Wozniak, head of Detroit's RecoveryPark, Catherine Casserly, CEO of Creative Commons, and Vijay Kumar, professor at IIT Institute of Design.
Creating new value out of seemingly impossible problems, Gary Wozniak and his colleagues transform two of Detroit's major liabilities—abandoned land and unemployed people—into remarkable environmental, societal, and economic assets.
Catherine Casserly has spearheaded work in transparency and technology. Her dedication to the openness movement show in her work with Open Educational Resources Initiative at The William and Flora Hewlett Foundation, the Carnegie Foundation for the Advancement of Teaching and Creative Commons.
Vijay Kumar, author of 101 Design Methods, brings us methods that offer responsiveness and flexibility to help us navigate a new class of problems. Like urban restoration and information policy, these problems are characterized by being systemic, ambiguous, and rapidly changing.
Additional speakers will be announced in the coming weeks. Visit the Strategy Conference website for more details.