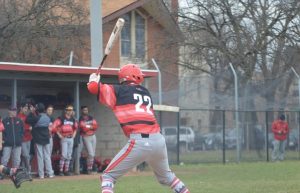 The Illinois Tech Baseball team hosted Maranatha Baptist in a doubleheader at Ed Glancy Field on April 8. After a 14-4 win in game one, the Scarlet Hawks came back to win game two 8-7 on a Zachary Dickey walk-off solo home run.
How it Happened – Game One
The Hawks found themselves down 3-0 in the first inning, but climbed back into the game on a Jonathan Wilcox RBI double that scored two and a wild pitch that brought home Wilcox to tie the game at 3-3 after one.
The very next inning, Ted Howell smashed a three-run homer, his third of the season, to extend the Scarlet Hawk lead to 6-3.
The Hawks put the game away in the fourth inning, as they brought four more runs home on three hits and one error, resulting in a 10-4 lead.
Illinois Tech continued the offense in the fifth inning, as Tyler Tucker and Wilcox doubled to help the Hawks score four more runs.
Scarlet Hawk Standouts
James Tarala pitched five innings, allowing four runs on five hits while striking out six to earn his second win of the season.
Wilcox went three-for-three, tallying five RBIs and two runs.
Christian Lopez went one-for-two with a two-run homer.
Howell was two-for-three with a three-run homer and two runs scored.
Stats to Know
Hawks (10) tallied one more hit than the Sabercats (9).
Hawks pitchers gave up five walks compared to seven for the Sabercats.
Illinois Tech struck out three times, three less than Maranatha (6).
How it Happened – Game Two
The Scarlet Hawks once again found themselves down early, as Maranatha had three hits and two RBIs in the first.
Illinois Tech quickly answered back in the bottom of the second, as Matt Witkowski walked with the bases loaded to bring home Howell. Orlando Cardenas-Juan then singled to bring two more home, giving the Hawks a 3-2 lead.
The Sabercats kept the pressure on, scoring five runs over the next two innings to leave the Hawks at a 7-3 deficit with four innings to go.
Nick Worden hit an RBI groundout in the bottom of the fourth, but the Hawks still found themselves down by three (7-4).
With two outs and one man on second in the bottom of the sixth, Worden singled to bring home Kyle Bumpass. The Hawks didn't stop there, as they scored two more runs to tie the game seven with one inning to go. A Tucker single was the hit that knotted up the score.
After a quick 1-2-3 inning by pitcher Dylan Corsi in which he did not throw one ball in six pitches, Dickey hit a walk-off homerun to capture a thrilling 8-7 victory for the Hawks.
Scarlet Hawk Standouts
Cardenas-Juan went a perfect three-for-three at the plate with two RBIs and one walk.
Bumpass had another good game, going two-for-three with three runs.
Worden went two-for-three with two RBIs and two runs.
Dickey went one-for-four, his one hit being the all-important walk-off homerun.
Joseph Hindy tossed two scoreless innings in relief.
Stats to Know
Illinois Tech (12) tallied one more hit than Maranatha (11).
Each team's pitchers struck out two and walked two.
The Sabercats committed two errors while the Hawks had none.
Up Next
The Scarlet Hawks will play again on Tuesday, April 11 in a make-up game against Calvin College in Grand Rapids, Michigan. First pitch is set for 3 p.m.