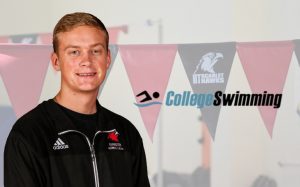 Karsen Diepholz has been named the Men's Swimmer of the Week for the Liberal Arts Conference by collegeswimming.com. The sophomore earned the award after competition during the week of January 8 to 14 against Lawrence.
Diepholz had a very impressive meet at home on January 13. He won three of his four events, including the 1000 Yard Freestyle (9:53.65), the 500 Yard Freestyle (4:51.40) and as part of the 200 Yard Freestyle Relay (1:33.31.) The Michigan native also took second place as part of the 200 Yard Medley Relay with a time of 1:41.87.
This is Diepholz's first weekly award this season. The Scarlet Hawks will be back in action on Saturday, January 20 against Carroll in Wisconsin.