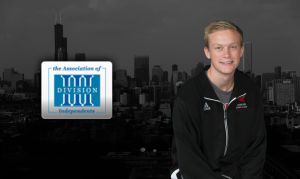 The Illinois Tech Men's Swimming and Diving team has earned another individual honor. Karsen Diepholz has been named Men's Swimming and Diving Student-Athlete of the Month for November by the Association of Division III Independents.
Diepholz began the month with first place finishes in the 1000 Yard Freestyle and 400 Yard Freestyle Relay against Loras on November 5, ending with times of 10:00.64 and 3:22.13. The Michigan native then placed first in the 500 Yard Freestyle against Illinois Wesleyan and Carthage on November 12, finishing with a time of 4:52.40.
To close out the month at the U Chicago Phoenix Invite from November 18-20, Diepholz had arguably his best meet of his collegiate career, with strong finishes in the 1650 Yard Freestyle (16:25.89) and 500 Yard Freestyle (4:46.58). During his 1650 Yard Freestyle swim, Diepholz set the school record in the 1000 Yard Freestyle with a time of 9:52.34. All three times currently sit atop the Liberal Arts Conference leaderboard.