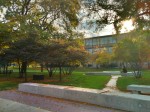 Digital Humanities Speaker Series 2013-2014: State of the Practice.
This year's series looks at Digital Humanities in practice. What are the specific ways that scholars from multiple humanities fields use digital humanities tools and techniques for everything from research to classroom projects? How do digital tools change our research conclusions and expand classroom possibilities? The talks in the series this year will focus on allowing practitioners from inside and outside of IIT to share hands-on examples and practical insights about what the digital humanities means currently and why it is useful.
Meetings take place Wednesdays from 3:15 pm to approximately 5 pm in the Siegel Hall 218 conference room in the Humanities Department. Students, faculty and staff are welcome.
Spring Semester Schedule:
1) January 22: Matt Heston and Andrew Roback will discuss projects they have done while in the Humanities graduate program, and their work within the DH community outside of IIT.
2) February 26: Halcyon Lawrence and Marie Hicks will talk about using digital tools to create student assignments that span different disciplines and apply classroom insights to real world problems.
3) March 12: Libby Hemphill, Michael Davis, and Kelly Laas will talk about collaborative work they've done to create lasting digital resources.
4) April 16: Claire Stewart from Northwestern will talk about how to maximize your own digital archives and the access provided to digital tools by university library experts.