Created to foster awareness regarding the deeper issues of poverty, homelessness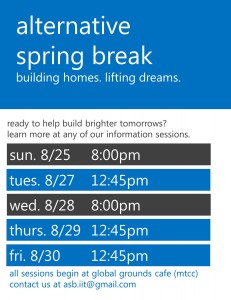 and social justice in our communities and around the world, Illinois Tech Alternative Spring Break provides meaningful opportunities for students looking to volunteer their time and energy towards the mission of various collegiate challenges across the country.
To learn more about IIT-ASB and find out how to join the team for the 2013–14 academic year, attend any of the following informational sessions: today, Wednesday, August 28 at 8 p.m.; 12:50 p.m. on Thursday, August 29 and on Friday, August 30.
Please see featured flyer for the location and contact information.