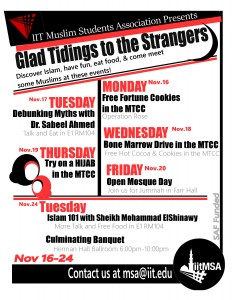 The Muslim Students Association (MSA) will be hosting a variety of events from Monday, November 16 through Wednesday, November 24, to spread awareness about Islam and clear any misconceptions that the general public might have.
On Wednesday, November 18, The MSA will be hosting a Bone Marrow Drive from 10 a.m.-2 p.m. in The McCormick Tribune Campus Center (MTCC), where you can sign up to be a potential donor.We'll also be providing free cookies and hot cocoa.
This event reflects the values expressed in IIT's Diversity Statement and is intended to promote diversity at Illinois Tech.