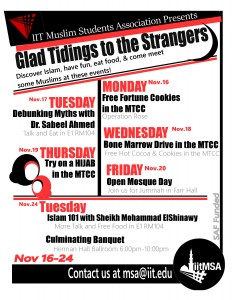 The Muslim Students Association (MSA) will be hosting a variety of events from Monday, November 16 through Wednesday, November 24, to spread awareness about Islam and clear any misconceptions that the general public might have.
On Tuesday, November 17, guest speaker Sabeel Ahmed will be holding a discussion during lunch (12:50-1:40 p.m.) in the John T. Rettaliata Engineering Center, Room 104 debunking commonly held myths about Islam. Lunch will be served.
This event reflects the values expressed in IIT's Diversity Statement and is intended to promote diversity at Illinois Tech.