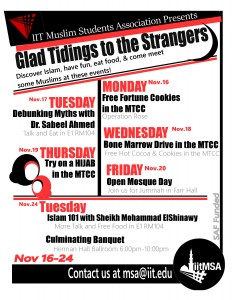 The Muslim Students Association (MSA) will be hosting a variety of events from Monday, November 16 through Wednesday, November 24, to spread awareness about Islam and clear any misconceptions that the general public might have.
On Friday, November 20 at 1 p.m. on the third floor of Farr Hall, join MSA for Friday Prayer during Open Mosque Day. The Mosque will be open from 10 a.m.-4 p.m.
This event reflects the values expressed in IIT's Diversity Statement and is intended to promote diversity at Illinois Tech.