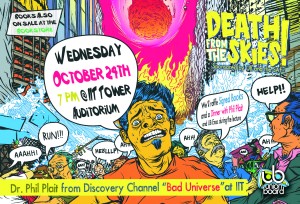 Asteroid impacts! Cometary debris! Extinction level events! These are the ways the world might end, and these are the topics of "Death from the Skies!" a scientifically-based but fun look at giant impacts from cosmic objects.
Union Board is proud to announce that Phil Plait — astronomer, author, and blogger — will talk about how these events have shaped our history, how they may do so again, and why Hollywood always seems to get them wrong, at 7 pm on Wednesday, October 24  in the IIT Tower Auditorium.
Plus UB will raffle 15 signed books and a full dinner with Phil Plait and UB exec board after the show. People can also buy Phil's books from the IIT Bookstore and is an event where everyone is invited.
Join the Facebook event.