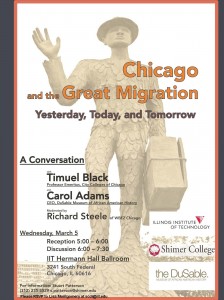 A discussion regarding the legacy of the great migration entitled "Chicago and the Great Migration: Yesterday, Today, and Tomorrow," will take place at 6 pm on Wednesday, March 5, 2014 in the Hermann Hall Ballroom. Presented by IIT and Shimer College, the discussion will feature City Colleges of Chicago Professor Emeritus Timuel Black and Dr. Carol Adams, the President and CEO of the DuSable Museum of African American History. Richard Steele, host and correspondent for WBEZ 91.5 FM, will moderate the discussion.
The conversation will explore the theme of the 2013-14 One Book, One Chicago selection: Isabel Wilkerson's The Warmth of Other Suns: The Epic Story of America's Great Migration. The presentation is free and open to the public. A reception begins at 5 pm. The question and answer session will follow the presentation. RSVP now.
Black is a historian and long-time activist who was asked by Dr. Martin Luther King, Jr. to organize the Chicago contingent of the March on Washington in 1963. He serves on the Advisory Board of the Committees of Correspondence for Democracy and Socialism.
A sociologist who taught at Loyola University and at Northeastern Illinois University, Adams has been a leader in community building both in Chicago and in Africa, where she has traveled and consulted extensively. In 2003, she was part of a delegation invited by Kofi Annan, Former Secretary-General of the United Nations, to discuss fostering relationships between African Americans and the United Nations.
This event reflects the values expressed in IIT's Diversity Statement and is intended to promote diversity at IIT.