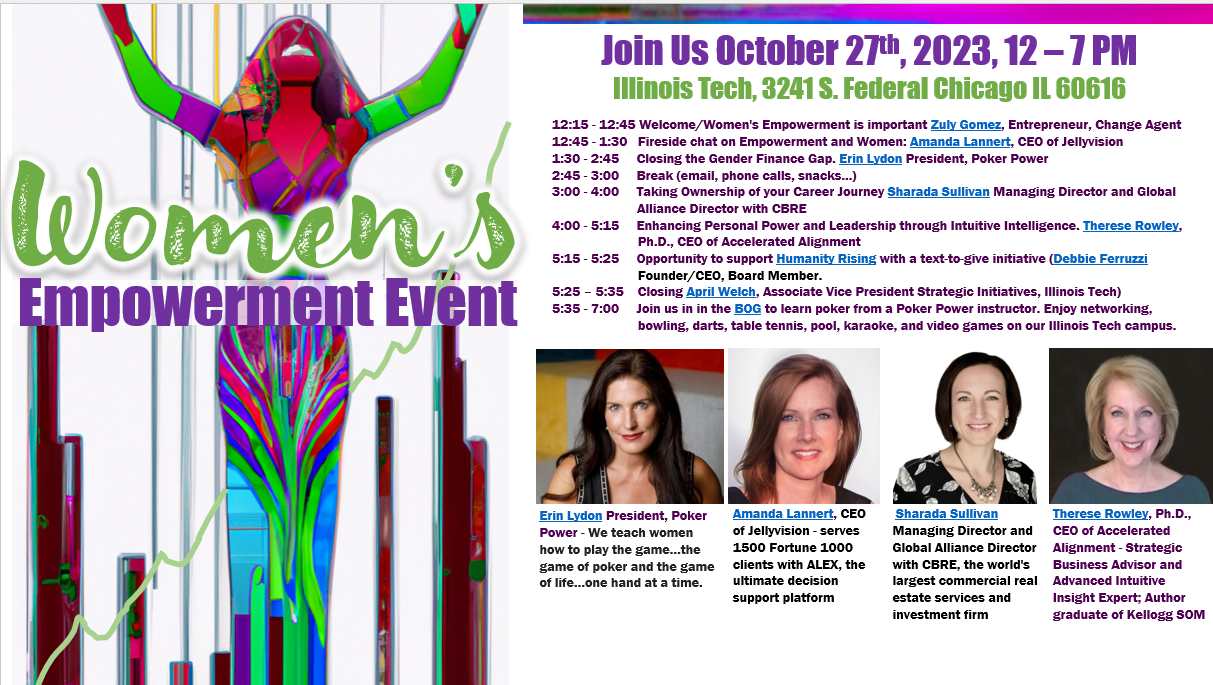 Discover why Women's Empowerment is crucial in today's world at an event at Hermann Hall on Friday, October 27, from noon to 7 p.m. Gain insights from powerful influential leaders and change agents on topics ranging from finance, leadership, confidence to intuitive intelligence. Learn practical strategies for navigating personal and professional life.
Agenda
12–12:15: Registration (Name tags and swag bags)
12:15–12:45: Why Women's Empowerment is important, welcome to Illinois Tech, Zuly Gomez, Entrepreneur, Change Agent
12:45–1:30: Opening remarks on empowerment and women: Amanda Lannert, CEO of Jellyvision, her company that serves more than 1500 Fortune 1000 clients with ALEX, "the most helpful employee decision support platform on the planet."
1:30–2:45: Closing the Gender Finance Gap. Erin Lydon (President, Poker Power) We teach women how to play the game… the game of poker and the game of life… one hand at a time.
2:45–3: Break (email, phone calls, snacks, Navy Seal box breathing, bio break etc.)
3–4: Taking Ownership of your Career Journey, Sharada Sullivan, Managing Director and Global Alliance Director with CBRE, the world's largest commercial real estate services and investment
4–5:15: Advanced Intuitive Insight. Therese Rowley, Ph.D., CEO of Accelerated Alignment
5:15–5:25: Opportunity to support Humanity Rising with a text-to-give option, Debbie Ferruzzi Founder/CEO, Board Member. "Empowering young people to change the world."
5:25–5:35: Closing, thanks, recap and an invitation to join us downstairs in our BOG, April Welch, Associate Vice President Strategic Initiatives, Illinois Tech
5:35–7: Join us in in the BOG to learn poker from a Poker Power instructor. Enjoy networking, bowling, darts, table tennis, pool and video games in our campus bar that serves wine and beer.
🤝 Network & Learn: After the sessions, enjoy hands-on activities, networking opportunities, and even a poker workshop led by Poker Power instructors. Unwind at our campus bar with wine and beer, and explore games like bowling, darts, table tennis, and pool.
📱 Support a Cause: During the event, you'll have the chance to support Humanity Rising with a text-to-give option, empowering young people to change the world. https://humanityrising.org/donate/
Don't miss this chance to elevate your personal and professional life. Join us for the Women's Empowerment Event at Illinios Tech and be part of a transformative experience!