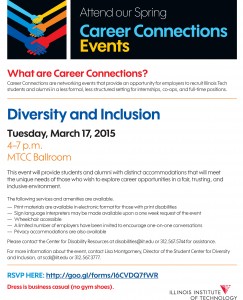 Career Services and the Student Center for Diversity and Inclusion invite students and alumni to attend the Diversity and Inclusion Career Connection on Tuesday, March 17 from 4-7 p.m. in the McCormick Tribune Campus Center (MTCC) Ballroom. Career Connections are networking events that provide an opportunity for employers to meet and recruit Illinois Institute of Technology students and alumni in a less formal, less structured setting for internships, co-ops, and full-time positions.
This event will provide students and alumni with distinct accommodations that will meet the unique needs of those who wish to explore career opportunities in a fair, trusting and inclusive environment. The following services and amenities are available. Please contact the Center for Disability Resources at disabilities@iit.edu or 312.567.5744 for assistance. Register here.
Print materials are available in electronic format for those with print disabilities
Sign language interpreters may be made available upon a one week request of the event
Wheelchair accessible
A limited number of employers have been invited to encourage one-on-one conversations
Privacy accommodations are also available
* Dress is business casual – no gym shoes.
For more information contact Lisa Montgomery, director of the Student Center for Diversity and Inclusion, at scdi@iit.edu or 312.567.3777.
This event reflects the values expressed in IIT's Diversity Statement and is intended to promote diversity at IIT.